As I've pointed out many times on this site, it becomes more and more difficult to load and unload for attending tractor shows as I've gotten older–I'm 76 as of this writing. Consequently, I only took one tractor to the Extravaganza in Evansville, Indiana in 2019. But while there, I saw a display from a gentlemen from Ohio. He brought in several JD Patio tractors and just left them loaded. I thought that seemed like a really good idea. So I sold my 4 wheel drive Cub Cadet and used the money to purchase a 16 foot trailer and permanently mounted several of my attachments. I displayed it at Thresherman Park during the 2019 show season, but decided I could add a "second tier" and display even more attachments. It became a "Covid-19" project. All the tractors and attachments are "permanently" mounted on the trailer. The only comment that I would make is that all the tires are mounted so that they're just barely touching the trailer bed so that if a tire goes flat, it doesn't have to be reinflated. Other than that, there's really no discussion; just pictures.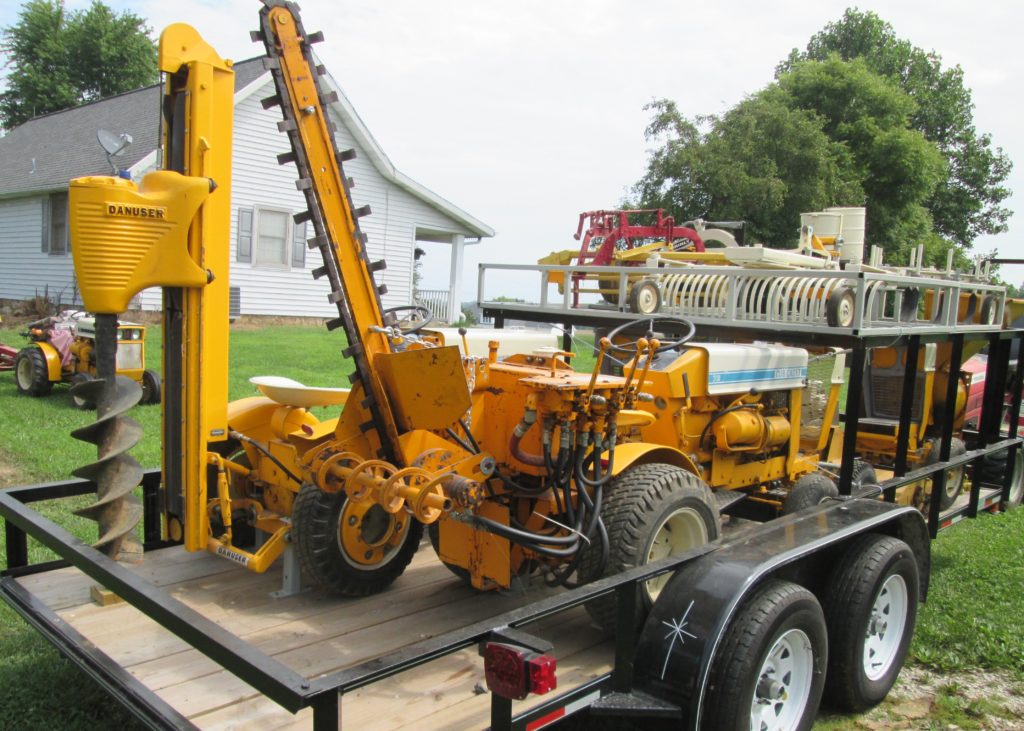 And that's kind of a walk around the trailer. All I have to do is hook on, pull it out of the Cub Shed and park it at a show. After I took the pictures, I covered everything before it went back into the Cub Shed. Several years ago a good friend suggested that sheets from yard sales are a really good investment!!
And, that's it. As usual if you have any questions or comments you can contact me through this website.